Bernie Najar
Bernie Najar, Director of Instruction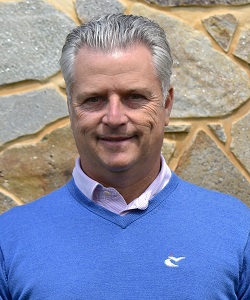 Bernie Najar is the Director of Instruction at Caves Valley Golf Club in Owings Mills, MD. Recognized as one of the top instructors in both the Baltimore-Washington D.C. area and the nation, Bernie is one of Golf Digest's 50 Best Teachers and Golf Magazine's Top 100 Teachers and is also ranked as Golf Digest's No. 1 teacher in Maryland. He is a two-time winner of both of the Middle Atlantic PGA Section's top teaching honors—Teacher of the Year (2014, 2004) and the Horton Smith Award (2011, 2012).
Since becoming a golf professional in 1994, Bernie's goal has been to promote the enjoyment of the game through comprehensive, personalized instruction. Bernie has trained under some of the most prominent instructors in the game, and, in turn, has become a resource for other teachers interested in improving their teaching and coaching skills. His studio at Caves Valley is one of the most advanced on the eastern seaboard, with a K-Vest motion capture system, TrackMan launch monitor, Swing Catalyst 3D motion plate, and a SAM (Science and Motion) PuttLab. Also, Bernie was the first teaching professional in the Mid-Atlantic to be certified as an AimPoint instructor. He has also compiled a database of more than a thousand of the best swings in the history of the game—both from archival footage and through filming PGA Champions and LPGA tour swings, personally, at events like the Masters and the President's Cup.
Bernie has taught students at every level, from beginners to aspiring tour players. His students have gone on to earn dozens of Division I golf scholarships (and the last three Maryland State Junior Boys Championships) and have won numerous club championships across the Middle Atlantic.
Bernie's Contact Information:
Cell: (410)-336-4979
Email: bnajar@cavesvalley.net
Nick Shemkovitz
Nick Shemkovitz, Assistant Teaching Professional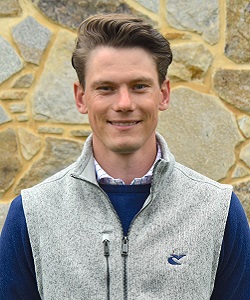 Nick Shemkovitz is the Assistant Teaching Professional at Caves Valley Golf Club in Owings Mills, MD. Nick has been teaching and performing club fittings at Caves Valley since the summer of 2018 and became a PGA teaching professional in October of 2020. Prior to working at Caves Valley, Nick was teaching at TPC River Highlands under Suzy Whaley (former president of the PGA of America) for four years.
Nick is a certified Level 1 Plane Truth Golf instructor under Jim Hardy and Chris O'Connell. He is also a certified club fitter for Titleist & Callaway as well as a Titleist Golf Ball Fitter.
Nick's teaching philosophy is to offer instruction that is relatable, easy to apply, and provides an overall understanding to
improve golfers in all aspects of their game.
Nick's Contact Information:
Cell: (203)-444-8668
Email: nshemkovitz@cavesvalley.net
Performance Center General Info